Desiderata
A little perspective on things.
CountyRealty
Steve Freeman
Broker, Owner, REALTOR
Find Homes
REGISTER
HOME
Seymour Video
Mortgage Application: Here are typical information requests made by lenders in order to qualify you for a mortgage. Some programs require more information, others less. If you can provide as much of this information as you can, right from the start, arranging your mortgage financing will be much easier. There is NO BENEFIT in waiting. Contact your favorite lender and ask if there are any special documents they desire as part of the application process. Many Sellers today require that buyers be pre-approved for a mortgage before granting approval for property viewings.

Documents Needed:

If you have Divorced or filed for Bankruptcy, additional information may be required; such as:

Valid driver's license or govt ID card
Copy of Divorce Decree
Most recent paystubs for all applicants
Proof of alimony paid or received
Two most recent years' W-2 for all applicants
Bankruptcy documents - copy of Discharge papers
If self-employed, two most recent years' personal federal tax returns with ALL schedules
If business owned, two most recent years' business federal tax returns with ALL schedules, including K-1's
Credit Card May Be Required to Order Appraisal
Most recent prior 2 months of bank statements with ALL pages from checking, savings, and other asset accounts such as 401(k), stocks, etc.
Contact lender for information needed.
Copy of tax returns if there are Schedules C, E, or F
Copy of College Transcripts
Copy of Accepted Offer with all Addenda
Copy of Employment Contract
Information on all gifted funds
.
Copy of marriage license

---

I, Steve Freeman, am a licensed and very independent real estate broker in Indiana. I only work with rational human beings. I've been serving Jackson County Indiana exclusively since 1995. In 2000 I earned the prestigious Jackson County REALTOR of the Year Award. I am a member of the National Association of REALTORS (NAR); the Indiana Association of REALTORS (IAR); the Jackson County Board of REALTORS Multiple Listing Service (MLS); Jackson County Landlord Association; First United Methodist Church; Seymour Evening Lions Club, and the National Rifle Association.

CountyRealty.Com is wholly owned by Steve Freeman ©2000-INFINITY; All Rights Reserved. CountyRealty is committed to the letter and spirit of the US policy for the achievement of equal housing opportunity throughout the nation. CountyRealty encourages and supports affirmative advertising and marketing programs in which there are no barriers to obtaining housing because of race, color, religion, sex, handicap, familial status or national origin.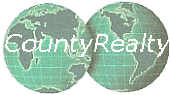 Steve Freeman, Owner
1790 N Co Rd 180 E
Brownstown, IN 47220
Cell/Text: 812-528-0976
BY APPOINTMENT ONLY
L