Home
Seymour City
Home Search
Office Info
Links
Other Stuff
2000 REALTOR OF THE YEAR
Steve Freeman
Broker-Owner
CountyRealty
1790 N 180 E
Brownstown
812-358-8635
812-528-0976

By Appointment Only
Welcome to Seymour, Indiana!

For a "small town" Seymour has a lot to offer! Seymour is a growing, friendly town that I am proud to call my home. Yes, it's true. Seymour is the small town where John Mellencamp grew up and featured prominently in his movie "Falling from Grace" and in his video for "Small Town". Seymour is also the hometown of Fred Gill, aka "Two-foot Fred" an up-and-comer in the music business. Fred is truly a local phenomenon and an inspiration!
Demographic and Census data show that we are indeed growing. Our economy is steady with strong reliance on the manufacturing sector. The six largest employers in Seymour are: Aisin USA, Valeo Sylvania, Aisin Drivetrain, Cummins Industrial Center, Seymour Tubing and Schwarz Pharma USA. The Jackson County Industrial Development Corporation continues to attract and retain employers for our county.
For even more information about Seymour and Jackson County, have a look at this PDF file prepared by the Jackson County Visitor Center. For a "municipal picture" have a look here. If you would like to see how your city and Seymour/Jackson County compare, have a look at this Relocation Guide. For a slice of hometown life, have a look at the local newspapers, the Seymour Tribune and Jackson County Banner.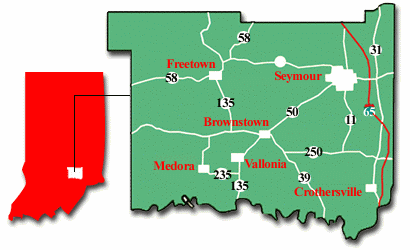 Just in case you don't know where Seymour is, if you follow Interstate 65 between Indianapolis and Louisville, KY; Seymour is just right between these two cities. Seymour is the largest town in Jackson County, followed by Brownstown, Crothersville, and Medora; and many rural towns as well.
Seymour and the surrounding communities also offer strong educational opportunities for students of all ages. Seymour has five public elementary schools, one middle school, and one high school. There are also several parochial schools available. Not only are there educational opportunities for kids, there are also opportunities for adults. Seymour is proud to be the home of the Jackson County Education Center, offering adult education classes. There are also college-level educational opportunities offered by Indiana University/Purdue University in nearby Columbus Indiana. The Indiana Business College also has offerings in Columbus. There is also a fine library system available in the county, and the Seymour Public Library serves as the "hub".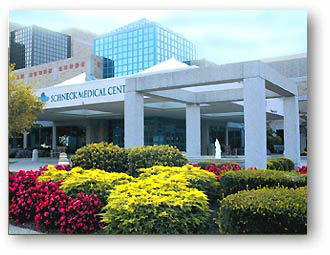 Seymour also has an outstanding medical facility located downtown. Schneck Medical Center serves Seymour, Jackson County and the surrounding counties. Schneck Medical Center is licensed for 166 beds. An integral part of the community since 1910, it is a growing medical institution with over 100 physicians of various specialties.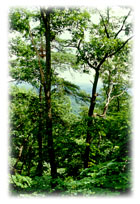 There are plenty of things to do and see in our area. If the great outdoors is more your style, I highly recommend you visit the Muscatatuck Natural Wildlife Refuge, Jackson/Washington State Forest, Starve Hollow State Recreational Area, Monroe Lake/Reservoir, and more; all located within 15 minutes of Seymour. (Ok, Lake Monroe is about 40 minutes from here but it's worth the drive!) For even more information about things to do and see in Jackson County, click here and here.
There are lots of places to shop, eat, and otherwise enjoy. In addition to nationally known stores such as JC Penneys, Wal-Mart SuperCenter, Home Depot, Staples, CVS Drugs, Sam Goode's and more; Seymour is also very proud of the many local stores offering a wide variety of merchandise; all sold with friendly hometown service. Just off of I-65 at Hwy 50, Seymour recently added the Shoppes at Seymour Outlet Center and just 25 miles or so up I-65 there is another even larger outlet mall, the Edinburgh Premium Outlets. There is an abundance of places to eat such as Applebees, Max & Irma's, Tumbleweeds, China Garden, Sante Fe Mexican Restaurant, Dakota Ridge Restaurant, Revelations Coffee House, Betty's Townhouse, and a Seymour favorite, Larrison's Diner; just to name a few. (Here is a big guide of restaurants!) For those seeking a relaxing and enjoyable afternoon, I encourage you to visit Southern Indiana Center for the Arts. For aviation history buffs, a visit to the Freeman Field museum (another cool link!) would be enjoyable.
There is so much I could tell you about our area, but I have to stop somewhere!